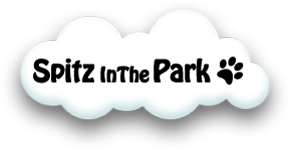 Spitz in the Park 2018
Super news - we can now announce the monies raised - an amazing £1638 - we have now sent a cheque of £546 to DBARC and £1092 to AHT for research projects on Cataracts and Epilepsy. A big thank you to all the people who supported SITP 2018
I guess I can liken organising and running an event like Spitz in the Park to giving birth, in that (a) its pretty stressful and painful (b) there is a lot riding on it (c) once its over there is a huge amount of joy and pleasure in pulling it off and (d) once a year has passed you have forgotten all the bad bits and are willing to do it all again!! The event was first run in 2014, then repeated in 2015 and 2016 but in 2017 we were forced to take a break as no suitable venue could be found. Facebook was awash with disappointment till one cold day (do you remember them?) in January 2018 when a little birdy mentioned a venue near Reading (thank you Ruth). I was straight on the internet looking up the location and its layout on street view etc, then off I drove to check it out. On the day of my visit it was trying to snow, and everywhere was green, it seemed perfect – now to negotiate a price and see if the committee of the Southern Finnish Lapphund Society were up to the challenge again!
Well of course we were, and so the organising started – and we roped in good friends Adi & Jan Chambers too, as there were lots of things to sort. So started the prep, first the grovelling and begging for prizes and we were extremely fortunate in the generosity of our sponsors;
Agria Pet Insurance,
Belle & Duke,
Canagan,
Cobby Dog,
Fish 4 Dogs,
Johnsons Veterinary,
Our Dogs,
Pet Remedy,
Poo Bags Direct,
Tails.com,
Tannahill Reay,
The Kennel Club,
Vamoosh and
Woof & Brew,
plus of course long standing supporter Richard Cox who donated all the medals for the Spitzlympics.
Fellow spitz enthusiasts were quick to offer to sponsor rosettes and we were delighted when Ros Reynolds and Crafting in the Cabin offered to make us a special selection of rosettes – those for the Best Novelty and Res Best Novelty were extra special unique Kanzashi Rosettes. Ros makes rosettes and also involves her special band of Crafters to assist, Crafting in the Cabin use crafting as therapy and we were delighted that we could support them and at the same time offer our exhibitors something special. Crafting in the cabin are also able to upcycle rosettes, contact them via their Facebook page or via Ros Rosettes.
This year to reduce the work involved in catering for the event, we decided to hire a mobile food van, all was looking good until a few days before the event when they had to pull out due to ill health, so who steps in but our super heroes Yvonne Hill and Michelle Queen, who rolled up their sleeves and cooked breakfast and lunch on the Saturday – a long day in a hot kitchen on a hot day definitely deserves a medal or two. Am sure the special award winning sausages and burgers Yvonne brought down all the way from Scotland were much better than we would have had!
We always try to involve other spitz breed clubs and over the years have had varying amount of interest and support – but this year we were delighted that the Finnish Spitz Club rose to the challenge and offered to run the Companion Show for us – such a generous offer and so well received – it meant we could relax and spend a little time with our own dogs and friends, so we are truly grateful to them for their help and support – they invited fellow Finnish Spitz officiados and spitz lovers, Angela and David Cavill to judge the Companion Show. A special thank you to Chairman - Robert Greaves, Vice Chairman - Stuart Byrne and Honorary Secretary - Nicola Croxford and their friends for running a great show. Companion show Results
From the pedigree classes, judged by Angela Cavill, BIS was Jane Saunders' Keeshond, Liefkees Adina, RBIS was Ms Heath's Afghan, Shayla, and BPIS was Amy Hyde's German Spitz (klein) Kitsune. The Novelty classes were judged by David Cavill, and he selected the winner of the Prettiest Bitch, Asha owned by the Kosla's and handled by Keeley Kosla for Best Novelty in Show, runner up was Ms Heath's Italian Greyhound, Kyesha handled by Lucie Ward, having won the Fancy Dress as a unicorn.
We were also fortunate to have the service of Any Hyde and her helpers with their agility course, and the course was left set up into the evening so people could have a go when the weather was cool enough for the dogs, to have a gentle trial. Shelley Goude was also kind enough to give up her time and set up a Rally Course and spend time with those interested to learn about this fast growing sport. Sadly the heat impacted on the opportunity to simulate competitions in either agility or Rally – but gentle have a goes were not out of the question.

In addition we welcomed Tracey and Claire from the K9 Massage Guild – who offered free muscular health checks for the dogs, and Vonnie Newton brought along her Waggleantics stand. The Koivukoira brought along their stand of Handicrafts made in Finland out of local birch wood and Samantha Dearman came along with her spinning wheel and gave demonstrations on spinning dog hair. We were delighted to have breed club stands representing Finnish Spitz, Japanese Spitz and Norwegian Buhunds. Jason from Artic Paws brought along his fab stand of collars and harnesses plus a super range of toys, Artic Paws supports dog rescues around the UK, so buying from Arctic Paws means you are also helping to support rescue dogs needing urgent transport to get them into a safe place, to the vets and into forever homes. A new addition to our weekend activities was nail cutting and grooming courtesy of Katie Mitchell from Surrey Pretty Paws and her mobile grooming salon.
This year we were also joined by Dr Sally Ricketts of the AHT, who have been our main ongoing charity from SiTP (and the Southern Finnish Lapphunds nominated charity). Sally gave a presentation on the research protocols used to help identify genes responsible for the genetic diseases founds in dogs, and confirmed that sadly the situation with respect for cataracts in the northern breeds is complex and work continues.
Jude Brendon carried out temperament testing on the day and all the dogs were successful in achieving the relevant standards to pass, many with excellent grades, in addition Andrew Wood raced back from Malaysia over coming delayed flights to arrive to meet his kind promise to us to carry out Bronze KC Good Citizen on the Saturday and retuned on the Sunday for Silver testing.
In the evening it was the famous Quiz Night, first alfresco supper and then a quiz in the cool outside air, question master as is the tradition, Stuart Jackson, with his home grown quiz. The quiz was closely fought and we had a lot of fun with the music round as each team could not help themselves single along to the opening words of each of the 15 songs, the winning team winning SITP goody bags were "Anonymous and Less victorious". It was certainly a very enjoyable evening in the barmy warm air of the evening, amongst friends, we also had a number of auction items, thanks to generous donations, first a hamper of doggy item, then a hamper of chocolate/fizz followed by a beautiful thumb stick and an excellent pin and bristle grooming brush. Thanks to our generous supporters both for donating these items and to our attendees for their generous bids.
Sunday saw the sun rise before many of the campers! But by late morning there were healthy appetites for bacon and sausage rolls. As the day looked destined to be warm, the paddling pools were refilled, the gazebos erected to provide plenty of shade and the Spitzlympics adapted to reduce the energy levels, though whilst the dogs sat out the sack race due to the heat there was plenty of competitive spirit from the owners, the race was won by Rob Perkins, defending his crown from the previous year. The water race finale saw the tortoise and hare fable come to life – and our careful team of Chris and Co with the well behaved German spitz team coming good at the end, and taking the overall title for 2018.

TJ got us all into the party spirit when he took over the microphone, and Yvonne and Graeme started the BBQ and we were spoiled with fabulous special pulled pork sausages and beef burgers - with Yvonne's special bacon double cheeseburgers being a big hit, and of course the cold drinks were very popular as were the Pawsecco ice pops from Woof & Brew for the dogs.
Then sadly like all good things – it had to come to an end – and the majority of campers had to depart for work on Monday. The merry band of organisers stayed over as is their tradition to enable us to tidy up and put our feet up on the Sunday evening and enjoy a drink or two to celebrate the successful weekend. At the time of writing the amount of monies raised is not fully known, but we did make money for our charities and we have received much feedback from those who attended on how much they enjoyed the weekend, it is so lovely how everyone enters into the spirit of the event and shares the fun and lets down their hair and takes time from the busy show calendar to sit down and chat amongst friends.
Well the good news is, we are going to do it all again – put the date in your diaries, 19 –21st July 2019 at Padworth Village Hall, and watch this web site and our Facebook page (https://www.facebook.com/SpitzInThePark) for details as they unfold.
If any Spitz breed clubs want to join us next year – we are happy to have breed club stands and any offers of help is much appreciated.