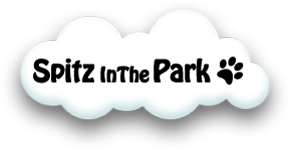 Spitz in the Park 2016
Super news - we can now announce the monies raised - an amazing £2719.30 - the SFLS rounded this up by adding £10.70 so that we could send a cheque of £910 to Dogs For Good (Banbury) and £1820 to AHT for research projects on Cataracts and Epilepsy. A big thank you to all the people who supported SITP 2016
When we started the Spitz in the Park idea in 2014 I don't think any of us would believe it would still be such a popular event much in demand in 2016, for the organising Southern Finnish Lapphund Society committee and their helpers the idea is all about fun – there is too much negativity in many canine sports and at SiTP everyone just joins in and has fun, and all the better as the more fun, the more money we raise for charity. We were fortunate that for 2016 we could head back to the Brailes' Village Hall venue, the site of the first ever SITP, which afforded great space and room for extra fun loving campers/caravanners. These big events don't just happen and the advanced party of Bell, Lee and Chambers hauled themselves plus caravans and necessary event equipment to the site on the Thursday to set up, allocating spaces for the 50 or so following campers and caravanners arriving on the Friday and putting up rings etc ready for our weekend events. On the Friday evening the hall was dressed with our lovely sponsored rosettes, beautifully made by Sam at Karingal Rosettes, and our fabulous array of prizes from all our fabulous sponsors, who were as ever most generous. For each of our three years we have had special T-Shirts designed by Pia and printed by Sally at Estjak – this year the theme was "Spitz love Camping" they were so popular we had to have an extra print run.
Whilst Caron & I can control much of the weekend's organisation we cannot control the weather, but the whole weekend was blessed with perfect weather, just the right temperature for being outside with the dogs. On Saturday morning we kicked off the "Have a go" events, starting with the CaniX team from Akna K9 Academy, Sarah Atkins took to the microphone and explained the sport, whilst friends gave demonstrations of running with the dogs and bikejorring, challenging our visitors to have a go! Another of our regulars to the event are the Japanese Spitz agility competitors with Mark Bunyan introducing the agility section and encouraging everyone to have a go, and certainly they were very popular with people coming back time and time again over the weekend to buy tickets to take their dogs over the obstacles.
On both days we had Claire and Becky Juson, both therapists from the Canine Massage Guild, www.K9-MassageGuild.co.uk offering Free Muscular Health Checks for all dogs. Many visitors to the event found the sessions very useful, it is easy to forget that our dogs rush about twisting and turning and being active and like many human athletes it's not surprising that they can pick up muscle injuries or simply tight muscles which benefit from massage. For those who were asking for more information – either contact the guild or Clare at Pawsitive Canine Massage Therapy www.pawsitivek9massage.co.uk or Becky at Dogs Life Canine Massage www.dogslifek9massage.co.uk.
A new addition to our itinerary for the weekend was the obedience/working tests "borrowed" from the Bearded Collie fun days and assessed by Caroline Nicolson assisted by Sue Bird. These tests are designed to assess the dog's level of obedience/temperament over a range of tasks, dogs having to "pass" each level before moving up to the next stage, there were 15 Primary tests undertaken with 13 passes and 5 Junior with 4 passes, Primary Passes; Samantha Evans Maize Keeshond, Jane Treasure Emmi Finnish Lapphund, Polly Haycocks Herbie Shih Tzu, Jane Treasure Mikka Finnish Lapphund, Lyndsey Jones Akira Japanese Spitz, Karen Phillips Viking Swedish Vallhund, Karen Phillips Alya Swedish Vallhund, Karen Phillips Nada Swedish Vallhund, Janet Hepplewhite Jazz German Spitz, Janet Hepplewhite Martha German Spitz, Robin Perkins Tassu Finnish Lapphund, Janet Hepplewhite Tansy German Spitz, Scarlet Sisley-Smith Den Working Border Collie. Junior; Jane Treasure Mikka Finnish Lapphund, Jane Treasure Emmi Finnish Lapphund, Polly Haycocks Herbie Shih Tzu, Karen Phillips Ayla Swedish Vallhund.
Our hard working team in the kitchen lead by Sam and Karen supplied breakfast rolls of bacon & sausage and more cups of tea /and coffee than I would like to count. At lunchtime we were most grateful to the Swedish Vallhund Club for running the lunchtime BBQ lead by Zoe Fithern. It's a pretty thankless task working the kitchens at events like this – but we all need sustenance throughout the day, and every roll eaten and cup drunk helps put money in the pot for our charities.
After lunch was the Companion dog show, sponsored by Cobby dog with the pedigree classes judged by Dieter Sprung of Shleslwig rottweliers and novelty Hilary Norbury (Tibret Tibetan Spaniels), between them they judged just under 100 dogs across the eleven classes. The toughest class had to be the fancy dress class, with a large entry and some very elaborate costumes. Both judges had a whale of a time and offered to come back next year. Special thanks too, to our hard working stewards especially Caroline Nicholson who had worked hard all morning on the obedience tests.
The roll of honour was: BIS - German Spitz - "Beth", RBIS - Border Terrier - "Amy", BPIS - Japanese Spitz "Luna", Best Novelty - Alaskan Klee Kai - " Koda" and Res Novelty - Xbreed - "Honey". For the classes: Pedigree Classes -Dieter Sprung (Shleslwig), - AV Puppy - Church's Japanese Spitz "Luna", AV Non Sporting - Cunningham's Korean Jindo "Ghost", AV Sporting - Barry's Border Terrier - "Amy", AV Spitz - Manner's Schipperke - "Zest", AV Open - Garwood's German Spitz - "Beth".
Novelty Classes - Hilary Norbury (Tibret) - Prettiest Bitch - Jones' Xbreed - "Honey", Handsomest Dog - McMahon's Alaskan Klee Kai - " Koda", Best 6 Legs - Butler's Samoyed – Poppy, Fancy Dress - Bell's Keeshond - "Bobbi" (Fried Chicken), Best Veteran (7 years and over) - Cunningham's Siberian Husky - "Tango" (12 years), The Dog The Judge Would Most Like To Take Home - Alaskan Klee Kai - " Koda".
In the early evening we were joined by Jane Sargent, Regional Fundraiser - West Central, Dogs for Good, previously known as Dogs for Disabled – who were our chosen local charity, they were accompanied by Anne and Jude, a dog in training. Dogs for Good are not only about providing assistance dogs, it was interesting to hear how they are such a great support for children with autism, breaking down classroom barriers and social stigmas. In addition the charity also trains activity and therapy dogs to work with specialist handlers in communities and schools.
Then it was time to see how many tables and chairs we could squeeze into the village hall for the big Quiz, first Karen and Sam had to work their magic in the kitchen, preparing the supper for the hungry quizzers, then Stuart took up the microphone to be the quizmaster. We had under estimated the interest in the quiz, and ended up with an amazing 21 teams of 6 people working through the 7 rounds and three table top question sheets and it was a closely fought battle with top honours and the prizes as supplied by Burgess Pet foods to the winning team - Six and a bit, 2nd - Un Petite Suisse, 3rd – Trendle's Terminators and the Wooden Spoon – Whatever. Think the vodka jellies had impact on our losing team! Stuart then raced back to our caravan for a couple of hours sleep before leaving at 1.30am to drive back to London for the Ride London Cycle ride!
On Sunday, we were joined by Shelley Goude who gave a short talk and with Michelle Jones' help, a demonstration of Rally, and then Michelle and Shelley helped explain the sport to those who "had a go" and others tried their hand at agility and Canix again. Over the weekend Andrew Wood carried out bronze, silver and gold KC Good citizen testing and there were 6 Bronze and 11 silver and 4 gold Good Citizen passes, across a wide range of breeds;
Bronze test: Adrian Russell with Ivar (Swedish Vallhund), Simon Oakley - Nikita (keeshond), Suzy Fithern - Bertie ( Alaskan Malamute), Danielle Ackril - Kapes ( WSD), Danielle Ackril - Ink (G.Spitz klein), Simon Oakley - Kilou (keeshond). Silver; Adrian Russell - Ivar (Swedish Vallhund), Suzy Fithern - Bertie ( Alaskan Malamute), Karen Janina Hare - Jamie ( G.Spitz Klein), TJ Williams - Merdock (Wolfdog), Simon Oakley - Honey (Keeshond), Lyndsey Jones - Cassi (Shetland Sheepdog), Cecily Byard - Kuura (Finnish Spitz), Janet Kettle-white - Martha (G,Spitz Klein), Virgina Ackrill - Zane (BSD), Danielle Ackrill - Pascha (BSD), Danielle Ackrill - Marshall (G.Spitz Klein). Gold; Simon Oakley - Keira (Keeshond), Lyndsey Jones - Akira (Japanese spitz), Jane Treasure - Emmi (Finnish Lapphund), Paul Keenan - Qimugta (Alaskan Malamute). It is very rewarding to see this number of dogs being successful at these tests.
Lunch was another excellent BBQ using local produce from the butchers and bakers, big thanks to them for hand making the rolls and burgers – they were delicious, and Chris and Graeme did a great trade.
After the lunch break we had the much awaited Spitzlympics with the participating teams keen to take home the fabulous medals and trophies, and generous sponsorship from Burgess Pet foods. The simple races of 'egg n spoon', 'Hoops and Beans', 'sack race', 'sausage eating' and the musical downs, test the handlers dexterity, the dog's obedience and the watchers lungs as they cheer and laugh with their teams. As in previous years the "Girls" and "Boys" of the Canadian Eskimo dogs show how they interpret the rules of each race, working every cheat in the book – yes it is quicker to do egg and spoon race with egg and spoon in one hand and pick up puppy lapphund in other arm and run, but you do have to remember to cross the line – or chief judge, Adi will eliminate! and yet again Caron ended up damp – but not as damp as Peter! The sack race was fiercely contested – with some performances worthy of Rio, and some quotes that I just cannot reproduce here in print! The winning team, were the "Japanese S*itz" our Japanese Spitz friends having a very successful weekend across all the activities. 2nd - "Trendle's Terminators", 3rd - "Klee Kai Kaos".
On the Sunday evening the organisers sat down (for first time all weekend) with a well-deserved glass or two and a super curry and reflected on another amazing weekend, we were overwhelmed with the kind words about the event and interest for next year! We haven't sorted our final accounts as yet – but an early count up indicates that we smashed last year's figures and our charities, Dogs for Good and the Animal Health Trust cataract and epilepsy projects, will soon be receiving our donations. A big thank you to our generous supporters and sponsors, and to those who came and made it another amazing weekend.